I got this email on my inbox, it´s a good opportunity to test my knowledge :)
Dear 101 Candidate,

A few months ago, we surveyed the F5 Certified! candidates to find out what they were looking for to help them achieve their certification.  One of the top two items was exam-specific practice exams.  In response to that, we are pleased to announce that we are releasing our first "practice exam" opportunity for candidates eligible to take exam 101 – Application Delivery Fundamentals, but who have not yet done so. You are one of those eligible candidates.

Beginning October 20, 2014, qualified candidates will be able to register to take a FREE 101-Application Delivery Fundamentals practice exam, available at all F5-authorized Pearson VUE test centers. The practice exam will help you prepare for exam 101 by introducing you to the format of the questions, topics covered, and alert you to areas you might need to study. The FREE practice exam is 150 minutes long, features 140 questions, and will provide immediate performance results including per-objective scoring to help you better gauge your readiness to take a production exam. Your participation in taking a practice exam will provide you with the confidence to take the next step and help us to gauge the value in providing practice exams in the future.

HERE IS THE CATCH – we cannot offer free practice exams forever.  These exams will only be available from November 3, 2014 – November 24, 2014; furthermore, we can only accommodate a limited number of candidates.  Consequently, a LIMITED NUMBER OF SEATS are available for this exam and EARLY REGISTRATION is highly recommended to get a guaranteed spot. When we exceed the number seats, registration will cease.

Here is how to get started:

On October 20, 2014, log into the F5-CMS and visit your Home page. The exam will NOT be available before October 20th.
Click on the 101 Practice Exam ad box (it's the black one).
Submit the 101 Practice Exam candidate agreement form.
In 24-48 hours, after receiving your authorized to test email, log into Pearson VUE and schedule your practice exam at the Pearson VUE test center near you.
Exam scheduling begins October 20, 2014 with the first exams available on November 3, 2014.
A LIMITED NUMBER of FREE practice exams are available; if you can't schedule your exam after receiving your authorized to test email, you may be too late.
After login in F5-CMS sign up using the link "Take the 101 Practise Exam"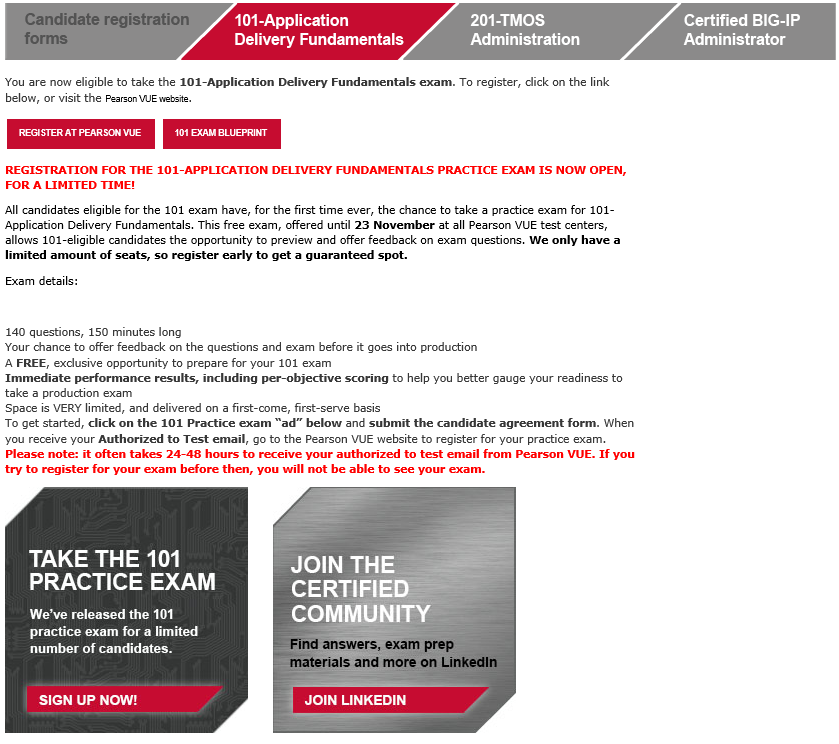 References: