Juniper updated their Certification Program with a new Track, SDN and Automation. A Specialist exam (JN0-410) is only available for now,  JNCIA is a pre-requirement, but the Professional level should be expected next year (2017). This exam covers SDN foundations, NFV, Contrail and OpenStack Platforms.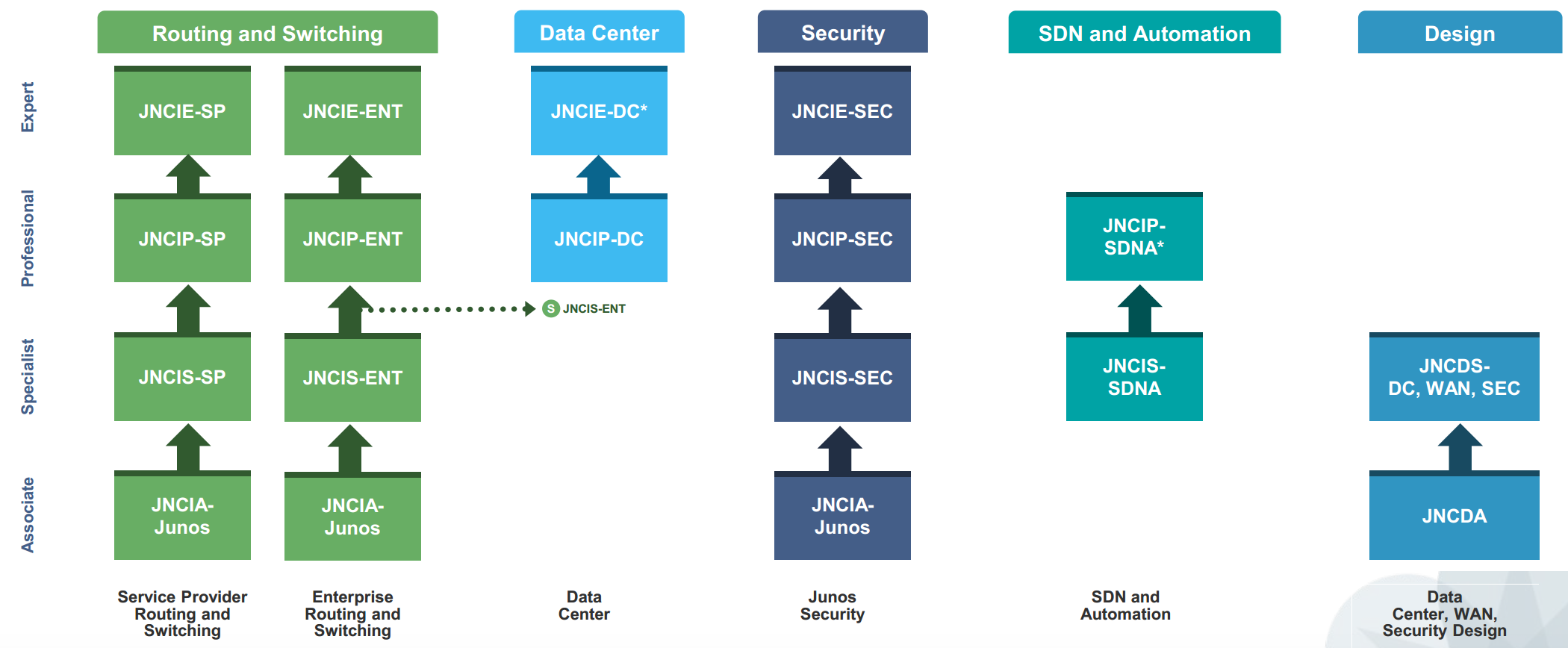 This list provides a general view of the skill set required to successfully complete the specified certification exam. Topics listed are subject to change.
SDN Theory and Applications
OpenStack
Contrail
Contrail Service Chaining
Contrail Analytics
Troubleshooting
SDN Theory and Applications
Identify SDN concepts.

SDN definitions
SDN versus NFV
SDN applications (data center, enterprise, WAN, transport networks)
OpenStack
Identify OpenStack concepts.

Components (Nova, Neutron, and so on)
VM creation
Tenancy
Network policies

Demonstrate knowledge of configuring, monitoring, or implementing OpenStack.
Contrail
Identify Contrail architectural concepts.

Controller versus orchestration
Node types
vRouters
Layer 2 versus Layer 3 overlay networks
Contrail API
Storage
Route distribution, protocols

Demonstrate knowledge of configuring, monitoring, or implementing Contrail.

Traffic path verification
Configuration process, dependencies
Analytic node configuration
Contrail Service Chaining
Identify Contrail service chaining concepts.

In-network service chain
Transparent service chain
Source NAT
Heat templates

Demonstrate knowledge of configuring, monitoring, or implementing Contrail service chaining.

Analyzer service virtual machine
Third-party services
Traffic path verification
Contrail Analytics
Identify Contrail analytics concepts.

Infrastructure workspace
Networking workspace
Traffic analysis

Demonstrate knowledge of configuring, monitoring, or implementing Contrail analytics.

Underlay and overlay monitoring
Event monitoring
Traffic monitoring
Troubleshooting
Demonstrate knowledge of troubleshooting Contrail.

Route availability in the controller
Virtual router programming
Contrail CLI commands
Fabric scripts
Contrail Introspect
vRouter commands
Top of rack service node (TSN)

Demonstrate knowledge of troubleshooting OpenStack.

Log monitoring
Privilege, authentication
Component interaction
References:
Juniper Networks Certified Specialist SDN and Automation (JNCIS-SDNA)