After assist Webinar Cloud Managed WiFi: Next Step in Wireless and provide feedback i was entitled to get a free Meraki Access Point (MR18). Consult here all next live webinars
After 3 days wating my Meraki MR18 arrived….
Meraki will broadcast by default a SSID with your company name
After you connect your AP to the network it will use a Default SSID to connect to the Meraki controller in the cloud
Even if you try to connect to this default SSID you get….

Next use the Meraki Dashboard to control your Wifi network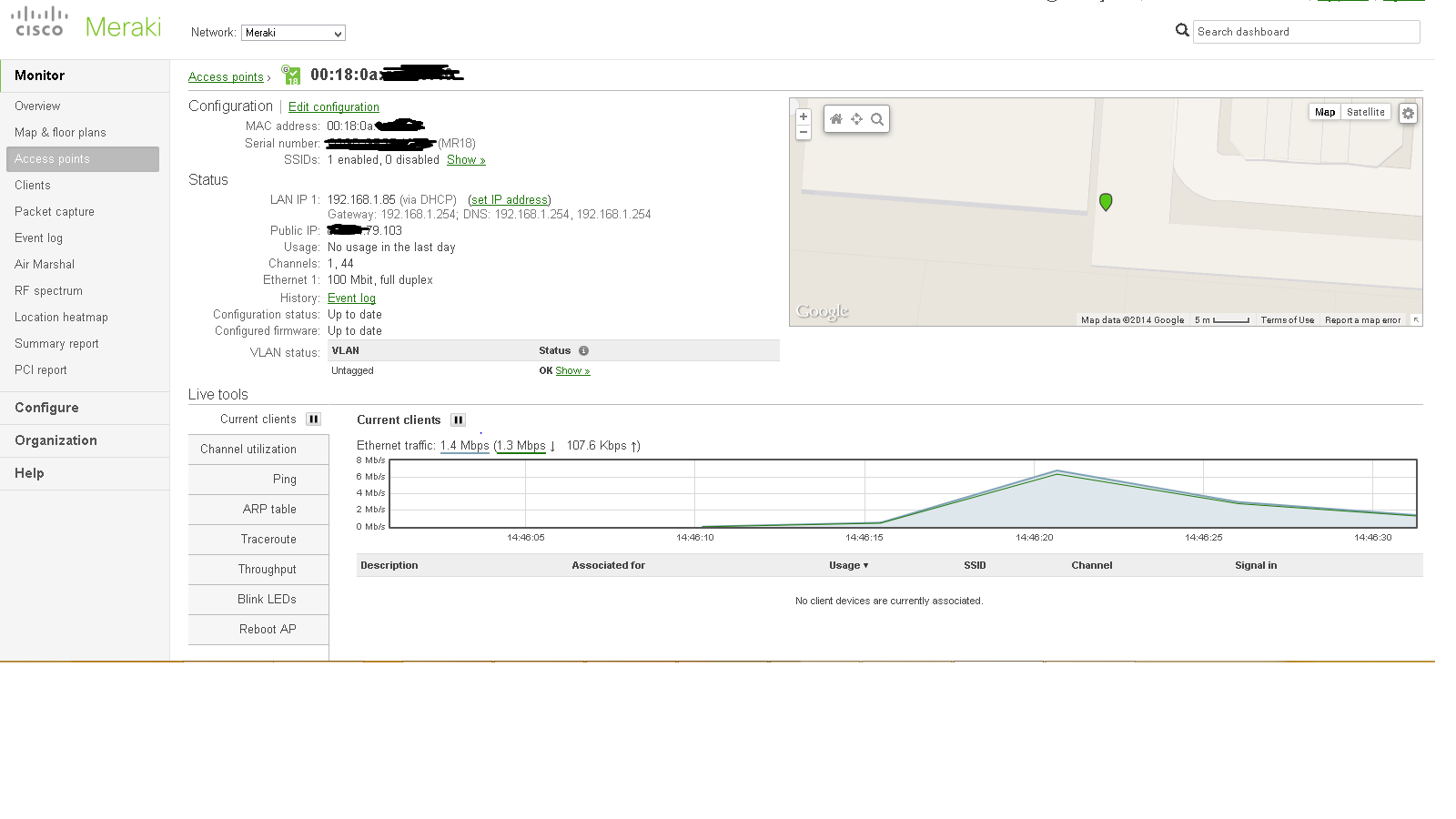 To review your networks use Creating and deleting dashboard networks, was not to intuitive to get there…..
Once the AP connect to Meraki Controller we are set to go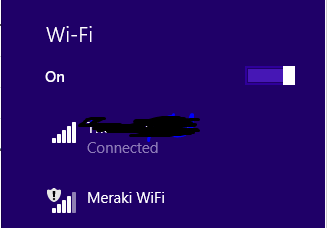 By default the Network Access is

By default the AP use NAT mode, for my case i´m using bridge mode

A report after a few minutes surfing…

Hardware/RF

Licencing
included 3 years of support for this AP
Highlights
Ideal use cases
General use wireless LANs
Mobility-intensive organizations
Hardware features
3 radios: 2.4 and 5 GHz, dual-band WIDS/WIPS
2-stream 802.11n, up to 600 Mbps
Gigabit Ethernet port
802.3af PoE compatible, AC adapter available
Cloud management
Network-wide visibility and control
Self-provisioning for rapid deployment
Automatic reporting
Seamless firmware updates
Enterprise security
802.1X and native Active Directory integration
Air Marshal: real-time WIPS with forensics
Stateful Layer 3-7 firewall
Identity-based group policies
Built-in antivirus scan (NAC)
Guest access
1-click secure guest access
Guest isolation firewall
Customizable splash pages
RF optimization
Dual-concurrent, 2-stream MIMO radios
Third radio dedicated to security and RF management
Built-in real-time RF spectrum view
Cloud-based automatic RF optimization
Layer 7 traffic shaping
Classifies hundreds of applications
Create per-application bandwidth limits
Prioritize productivity apps
Restrict recreational traffic
Mesh
Self-configuring, self-optimizing mesh
High performance multi-radio routing protocols
Extends coverage to hard-to-wire areas
Self-heals after cable or switch failures
Device management
Create device-specific firewall rules
Deploy applications and updates
Troubleshoot issues with built-in RDP
References: