After 2 months and an half studying VMware and went through official training, i'm really happy to say I'm officially VCP5-DCV for the next 2 years!
Pre-Requirements

One of the big pre-requirements is to have official training which cost around ~3500 USD, but if your are alone on this journey you can check a VMware IT Academy (VITA) for an online or classroom training. The cost on a VITA will vary between ~200 and 700 USD.To pick one of this courses on VITA there are pre-requirements also like unemployed, career changers, etc.
Materials
I've build my home Lab with 3 physical Servers, you can build yours using VMware Workstation, performance it's not required here :). After vSphere ICM course, i've read VCP5-DCV Official Certification Guide to clarify some gaps. I've watched also CBT Nuggets VMware 5.5 (my notes on this are unfinished).  VCP Community ad documentation Center for 5.5 is also a great resource.
I leave here my notes for both courses:
VMware vSphere Install Configure and Manage 5.5
A few good resources while i was studying:
Exam
Exam Code:VCP550PSE
Duration (Time):120 minutes + 30 extension (only for non-native Countries)
Number of Questions:136
Passing Score:300
This exam code is the same in essence like VCP550, the different it was scheduled from a VITA student
VMware RoadMap
This is the roadmap for Version 5, and now it's time to go to VCIX-NV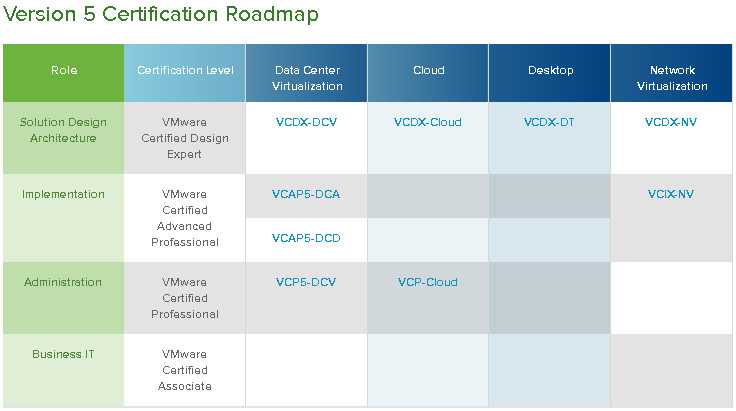 This is the official logo
References:
VMware Press – VMware Certification Marketplace
Exam Blueprint vSphere 5.5 (VCP550)